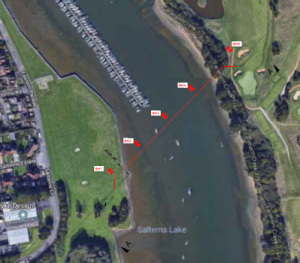 Queen's Harbour Master Portsmouth

BOREHOLE DRILLING WORKS – FAREHAM CREEK

LNTM No 74/19

1. NOTICE IS HEREBY GIVEN by the Queen's Harbour Master Portsmouth that Borehole drilling operations will be conducted across channel in the upper area of Fareham Lake within Portsmouth Harbour commencing on 14 October 2019 and completing by 25 October. The works will be carried out by Jenkins Marine Ltd.2. A total of 5 boreholes are programmed to be drilled, see graphic. Vessels passing should do so at very slow speed to minimise wash.3. The vessel conducting this task will be the 18 x 6m Spud-Leg Barge "JML60" which will remain on site throughout the period she will display an all round white light with Flashing Yellow lights at each corner. The works will be assisted be the 14 x 6m multi-cat "BUFFALO" and when works are ongoing a small safety craft will also be on station. Operations will be conducted between 0800 and 1700 daily.4. QHM Harbour Control may be contacted on VHF Ch 11 or by telephoning 02392 723689 for the latest information. Their movements will be de-conflicted from other movements by QHM Harbour Control in the usual manner.5. Cancel this Local Notice to Mariners 30 October 2019.