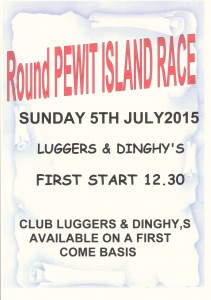 I know some of you are away enjoying yourselves somewhere in France, but for the rest of us, don't forget the FSMBC Round Pewit Island race is coming up fast.
So clear your decks and make your way down to the Sailing Club in time for the first start at 12.30  on SUNDAY 5th JULY.
Usual course ie start, go round Pewit Island either way and the first three back will get some winnings, oh and some trophies!
Don't forget we have 2 club Luggers  and 4 club dinghy's available. if you know anyone who might want to have a bash at this once a year race.
Alan Thorne and Sue will be entertaining us with their musical skills after the racing, we may even keep the bar open a bit longer than usual!